In great workplaces, something happens that transcends policies and practices. It isn't what the companies are doing, it is how their leaders are doing it. And one cannot predict that organisations with the most creative practices, the best bottom line, the least stressful jobs or the most generous compensation packages are the ones that employees will most appreciate.
Yes, programmes and policies are essential: they are tools that leaders and managers use to systemically create a great workplace that's aligned with the organisation's business. But it is the selection and implementation of these practices make the difference in whether these investments become assets or actually detract from a workplace culture.
PRODUCING RESULTS
Great Place to Work® uses its frameworks and expertise to help leaders focus their investments on those programmes, practices and methods that are most impactful by:
Focusing on high-leverage programme areas.  Great Place to Work® analyses the practices of more than 5,500 companies each year and has identified nine programme areas that differentiate the best companies.
Multiplying the success of the benefits and investments leaders do choose to make. Many organisations that on paper have impressive programmes, in practice don't see the benefits of these investments in spite of hefty investments in those programmes. Great Place to Work® has found there are five underlying qualities  that magnify the success of best company suites of programmes: their variety, originality, all-inclusiveness, degree of human touch, and integration with the culture at large.
Creating a systemic, self-perpetuating cycle of workplace and business greatness. Great organisations create cultures in which everyone is inspired and has the opportunity to contribute their talents and the best of themselves. Great Place to Work® has found that in the best companies, this isn't so much a business transaction, as part of a generous cycle of gifts exchanged between members of the organisation. Applying this approach is the secret to great workplaces' long-term stability and success.
Through Great Place to Work®'s Workplace Culture Assessments and advisory services consultants use the frameworks above to analyse and present a holistic picture of organisations' cultures, taking into account employees' experiences and the benefits provided. Our consultants identify gaps between the organisation's intended outcomes and the real effect of its policies and culture. We make focused recommendations for improvement.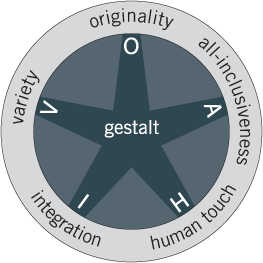 "It's not just about the perks and the benefits, you have to look at the entire value proposition." -- Jennifer Mann, VP of Human Resources, SAS, #1 Best Company to Work for in 2010 & 2011