The Great Workplace: Building Trust and Inspiring Performance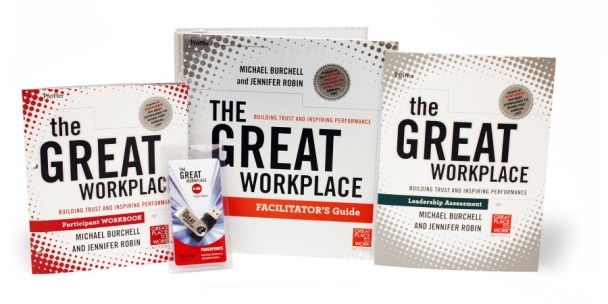 What is a great workplace and how do you get there?  The first step for managers is to understand the employee frame of reference. That provides a clear, tangible view of an organisation's culture and workplace development efforts. It is the first step in the creation of a great workplace. 
The Great Workplace:  Building Trust and Inspiring Performance is a one-half or full day training for managers at any level within an organisation. The training examines:
The definition of a great workplace from the employee viewpoint;
A comprehensive and accessible model for understanding the relationships that impact employees' perceptions of the workplace;
The role that managers play in creating such an environment; and
Actions that managers can take to begin the process of creating a high trust culture.
Based on more than 25 years of research into the culture of the world's best companies, this foundational training includes presentations of core concepts, small and large group activities, a leadership self assessment, case studies and group coaching.  Participants receive the Great Place to Work® book, The Great Workplace: How to Build It, How to Keep It and Why It Matters, a participant workbook, as well as materials that cover leadership self-assessment and job aide.
Organisations involved in the programme can have one of Great Place to Work's expert trainers work with their managers, or have their managers attend one of The Great Workplace public workshops, or have their own trainers certified through the our The Great Workplace Train-the-Trainer programmes. Contact us to explore how you can bring this programme to your organisation.