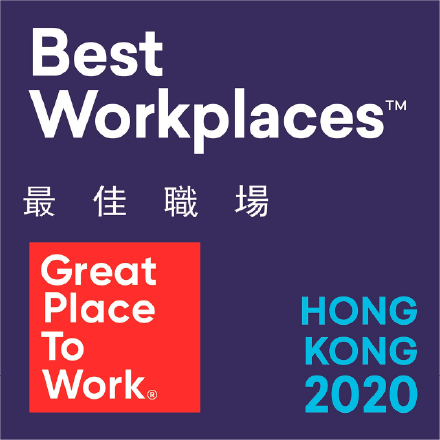 Best Workplaces in Hong Kong™
Digital Awards Ceremony 2020
30th June 4PM HKT
Show Time
Great Place to Work® Institute is proud to present the 5th Best Workplaces Awards Ceremony in Hong Kong, focusing on the theme: "Better Together"
TRUST continues to be the fundamental key to success in all kinds of workplaces, but now that we are all facing this unprecedented challenge of COVID-19, which makes it harder to remain motivated and engaged, TRUST reclaims its strategic value.
This is particularly the case when we are not able to stay physically connected and the situation is eroding our normal channels of communication. But, in fact, this is the real-time to see how your team can really experience the level of trust from their leaders, showing off the extended trust that your team has been building from day to day throughout the years in the office and now transferred to the home office, sharing your feelings and having conference calls with our pet or kids on our laps.
More than 30 years of research have taught us that it is important to listen to the voice of employees in order to better understand how to support organizations to become better places to work. And today, a workplace is no longer defined by your physical working environment, it is the actual emotional team support that your organization can offer. We are all Better Together. Nobody should be feeling alone trying to resolve all of their problems on their own.
This is a very special year due to the current situation of COVID-19, we are committed to upholding the safety of our colleagues and customers. Therefore, this year we made the responsible business decision to change the in-person Awards Ceremony to an online digital event. This decision complies with the recommendations made by the government in Hong Kong to avoid social activities and to minimise the risk of coronavirus clusters emerging in the community.
So as the world continues to change due to the COVID-19, we are ready to adapt this year. We are going to celebrate in the digital world, meaning that you can sit back and relax with a cup of coffee together with your colleagues anywhere you like. And the good news is everyone is invited.
Date: 30th June, 2020
Time: 4PM Hong Kong Time
Venue: Great Place to Work official website
Also, this year we will also be sharing a very important initiative, featuring some of the award-winning companies that have been providing great support to their employees or communities during COVID-19.
Join us to celebrate, we are Better Together !
Great Place to Work is the global authority on high-trust, high-performance workplace cultures that provides executive advisory and culture consulting services to businesses, non-profits, and government agencies in more than 60 countries across five continents. Through proprietary assessment tools, benchmarks and certification programs, Great Place to Work provides the expertise needed to create, sustain, and recognise outstanding workplace cultures. The Institute works with media throughout the world to select lists of Best Workplaces. In Greater China, we partner with Bloomberg Businessweek/China and Classified Post to publish the 'Best Workplaces ™' list. In the US, we work with Fortune Magazine to publish the '100 Best Companies to Work For®' list. http://www.greatplacetowork.cn/ | https://www.greatplacetowork.com.hk/
The Classified Post, published every Saturday, is an English-language recruitment publication in Hong Kong with a reputation for offering quality job postings. Launched in 1973, it came in a single section of the South China Morning Post following 70 years of classified advertisements published as part of the main paper. In our continuing effort to build the HR community and to draw the elite in the market, we have been holding different events and awards for both employers and jobseekers. https://www.scmp.com/
Official News Distribution Partner
PR Newswire, a Cision Ltd. Company, is a leading global provider of news distribution and earned media software and services.  In conjunction with Cision's cloud-based communications product suite, PR Newswire's services enable marketers, corporate communicators, and investor relations officers to identify key influencers, engage target audiences, craft and distribute strategic content, and measure meaningful impact.  Combining the world's largest multi-channel, multi-cultural content dissemination network with comprehensive workflow tools and platforms, PR Newswire powers the stories of organizations around the world. PR Newswire serves tens of thousands of clients from offices in the Americas, Europe, the Middle East, Africa and Asia-Pacific regions. https://www.prnasia.com/