10 Organizations awarded
'Best Workplaces in Hong Kong™ 2022' by Great Place to Work®

Great Place to Work® is proud to announce that Great Place to Work® has named 10 organizations as 'Best Workplaces in Hong Kong™ 2022':
Top 1 to 3:
Insight Enterprises Hong Kong
DHL Express Hong Kong
Tata Communications Hong Kong Ltd
The other 7 awardees in alphabetical order:
Bristol Myers Squibb
Cisco Systems (Hong Kong) Limited
Infineon Technologies Hong Kong Limited
Maersk
Meijer Trading Ltd.
NVIDIA
Stryker Hong Kong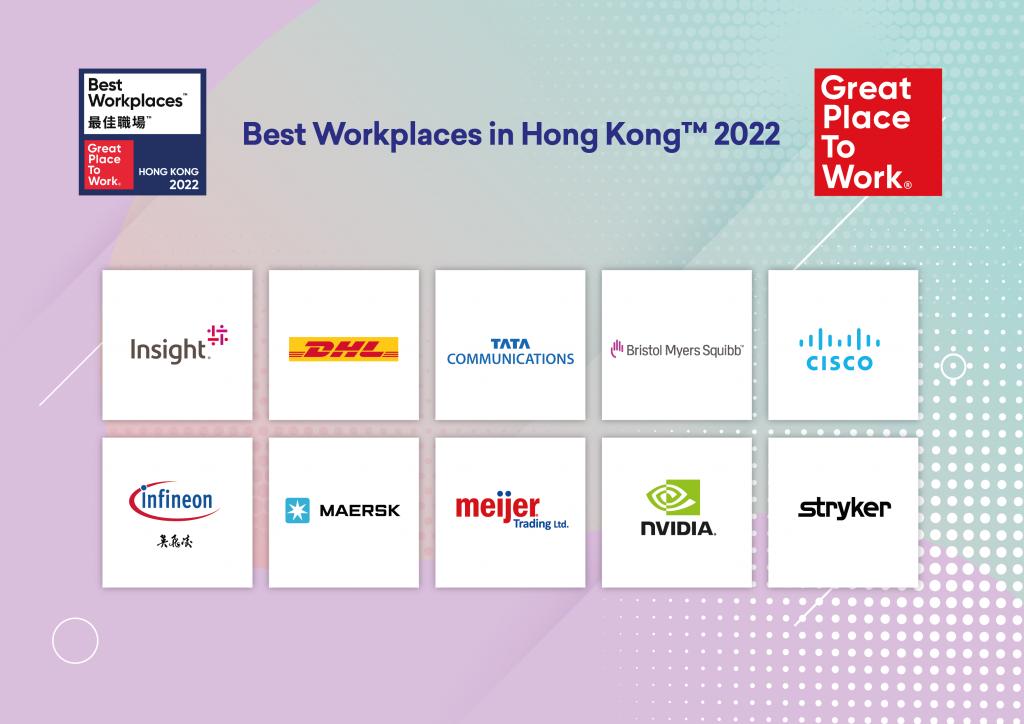 In its 7th year in Hong Kong, this annual award event recognizes organizations that have created outstanding work environments for their employees, while concurrently promoting the building of high-trust and caring workplace cultures in this metropolitan city.
Titled "The End of Turbulence? Is your Workplace ready for the next challenge? How the right assessment & data can help your workplace's evolution", the Best Workplaces in Hong Kong™ 2022 Awards Ceremony was held virtually on 27 July 2022.
Delivering the welcome and opening speech at the virtual award ceremony, Mr. Chris Sun, JP, Secretary for Labour and Welfare of HKSAR, said, "A great workplace not only brings in more profits for employers, it also makes employees happier and healthier. The relationship between employers and employees is not a zero sum game, rather it is a collaborative and interactive process; it is a feedback loop that empathizes with and rewards those who adopt good practices and, at the same time, punishes those who fail to build harmonious employer and employee relationships."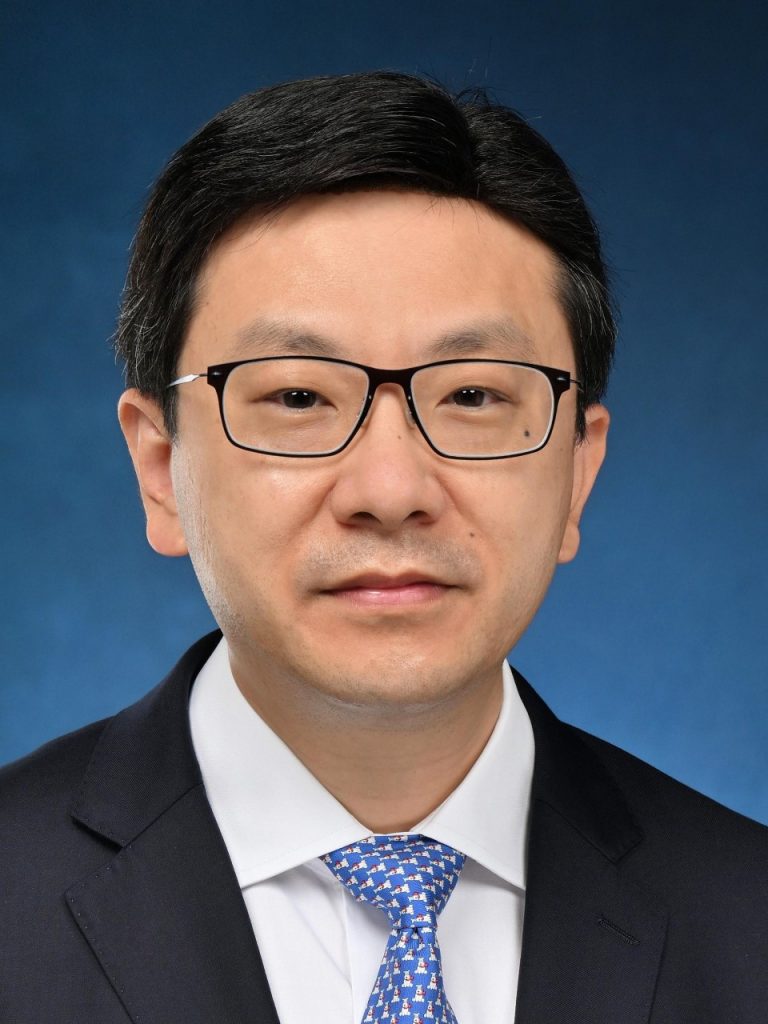 Mr. Jose Bezanilla, the CEO of Great Place to Work® Greater China, commented: "The pandemic has brought upon unprecedented challenges and a turbulent environment for many businesses. Nevertheless, many companies managed to provide more care and maintain high trust in their workplaces, boosting team spirit and achieving outstanding results."
"By encouraging the development of excellent work environments, we will continue our journey of building great workplaces in Hong Kong, which contributes to continually improving its productivity and development as the most preferred business hub in Asia," he said.
The Best Workplaces Hong Kong™ list is compiled based on confidential employee surveys and cultural audits, which are conducted by Great Place to Work®. This year, the Best Workplaces awards are given to the top ten organizations that have met the strict criteria and achieved the highest scores.
DHL Express Hong Kong is the only company that has been awarded as one of the Best Workplaces in Hong Kong for seven consecutive years, and it is among the top three in the 2022 list.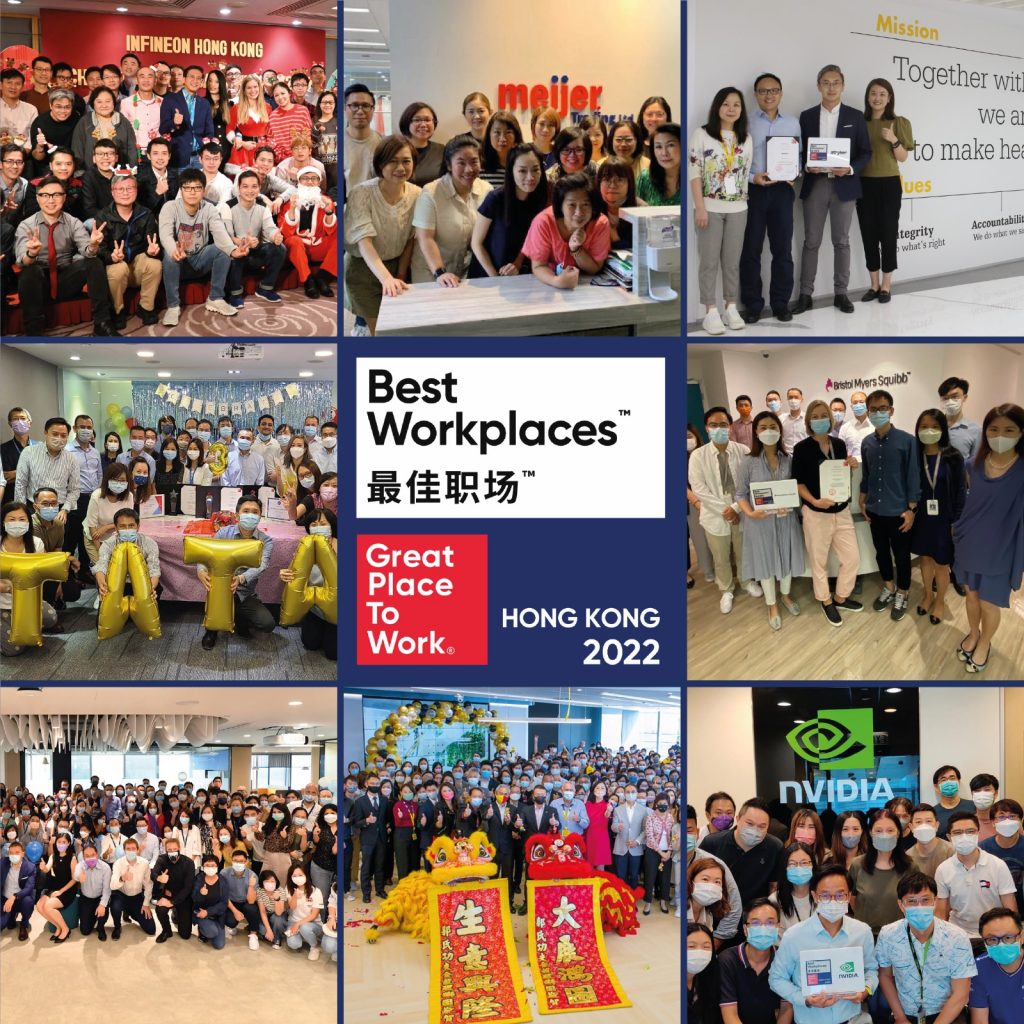 How to remodel the plane while it is flying?
The importance of listening and employee experience are highlighted by workplace experts and business leaders. At the ceremony's panel discussion, Ms. Elaine Phillips, General Manager of Bristol Myers Squibb (Hong Kong and Macau), stressed the importance of employee experiences. "Increasing the frequency of employee surveys from yearly to quarterly has helped management to understand the concerns of employees amidst all the uncertainties."
Mr. Emil Chan, Adjunct Professor of City University of Hong Kong, emphasized how meaningful work created inspiration for employees to develop themselves. His comments were echoed by Dr. Victor Ng, Vice President of OpenCertHub Academy, who shared examples of empowering employees with the Data Mindset to become change agents capable of innovating with data and leading digital transformation.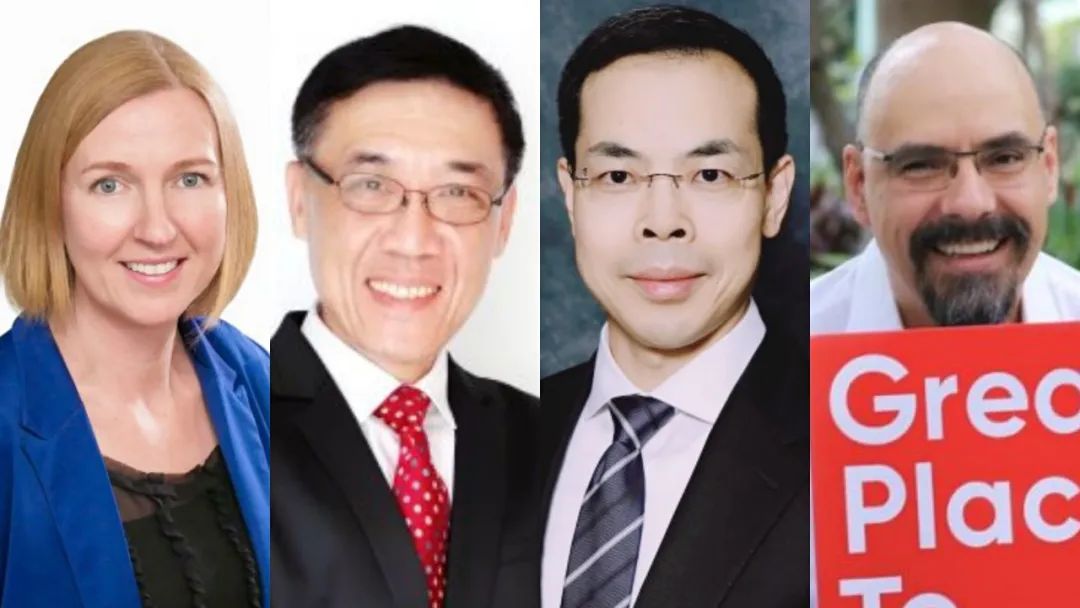 Research findings
Based on the survey feedback and research findings, Ms Anna Yau, Business Analyst at Great Place to Work® Greater China, said, "Having a listening strategy is essential to creating a positive employee experience. Leaders need to hear feedback and respond to the needs of employees and show genuine care and empathy through listening programs and actions."
She pointed out that Best Workplaces actively help employees connect their daily work with the company purposes, such that the employees will be more engaged and motivated and proud of their company.
The survey feedback also revealed areas for improvement. Employees gave relatively lower scores on average to sections about the unique benefits in the workplace and the management's capability to assign and coordinate jobs. The concern about the assignment and coordination may be one of the obvious hurdles when employees are having a hybrid way of working or gradually resuming to the office.
This year 50 organizations participated in the survey studies. Great Place to Work® applauds the participating and awarding companies for their efforts in fostering a great workplace culture for their employees and for Hong Kong.
For best practices on employee communications, please kindly refer to this booklet:
https://www.greatplacetowork.cn/wp-content/uploads/2022/07/BWPHK_2022_ENG.pdf
Great Place to Work is the global authority on high-trust, high-performance workplace cultures that provides executive advisory and culture consulting services to businesses, non-profits, and government agencies in more than 90 countries across five continents. Through proprietary assessment tools, benchmarks and certification programs, Great Place to Work provides the expertise needed to create, sustain, and recognise outstanding workplace cultures. The Institute works with media throughout the world to select lists of Best Workplaces. In Greater China, we partner with Bloomberg Businessweek/China and Classified Post to publish the 'Best Workplaces ™' list. In the US, we work with Fortune Magazine to publish the '100 Best Companies to Work For®' list.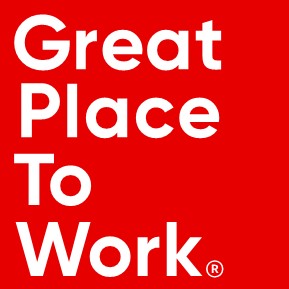 http://www.greatplacetowork.cn/  | https://www.greatplacetowork.com.hk/

Facebook: #GreatPlaceToWorkGreaterChina

Twitter: @GPTW_China

Linkedin: # Great Place to Work® Greater China

WeChat ID: greatplacetowork
BIG THANKS
to
Supporting organizations
CTgoodjobs, a member of the HKET Group (Stock code: 423), offers recruitment and employer branding solutions to recruiters of all industries and supports job seekers with a wide spectrum of free career resources. CTgoodjobs has a strong social media presence with over 334,000 Facebook followers. It also curates a HR-focused community – CTHR Channel (cthr.ctgoodjobs.hk), providing comprehensive resources covering the most updated HR News, Salary Survey & Report, and Workplace Insight, to let HR professionals stay ahead of the industry trend. CTgoodjobs organizes "Best HR Awards" annually, which is a signature HR event to recognize the outstanding talent acquisition campaigns and workplace practices for various companies.
Official News Distribution Partner
PR Newswire, a Cision company, is the premier global provider of media monitoring platforms and news distribution services that marketers, corporate communicators and investor relations professionals leverage to engage key audiences. Having pioneered the commercial news distribution industry since 1954, PR Newswire today provides end-to-end solutions to produce, distribute, target and measure text and multimedia content across traditional, digital, mobile and social channels. Combining the world's largest multi-channel content distribution and optimization network with comprehensive workflow tools and platforms, PR Newswire powers the stories of organizations around the world. PR Newswire serves tens of thousands of clients from offices in the Americas, Europe, Middle East, Africa and Asia-Pacific regions.
Media contact
justine.tang@greatplacetowork.com