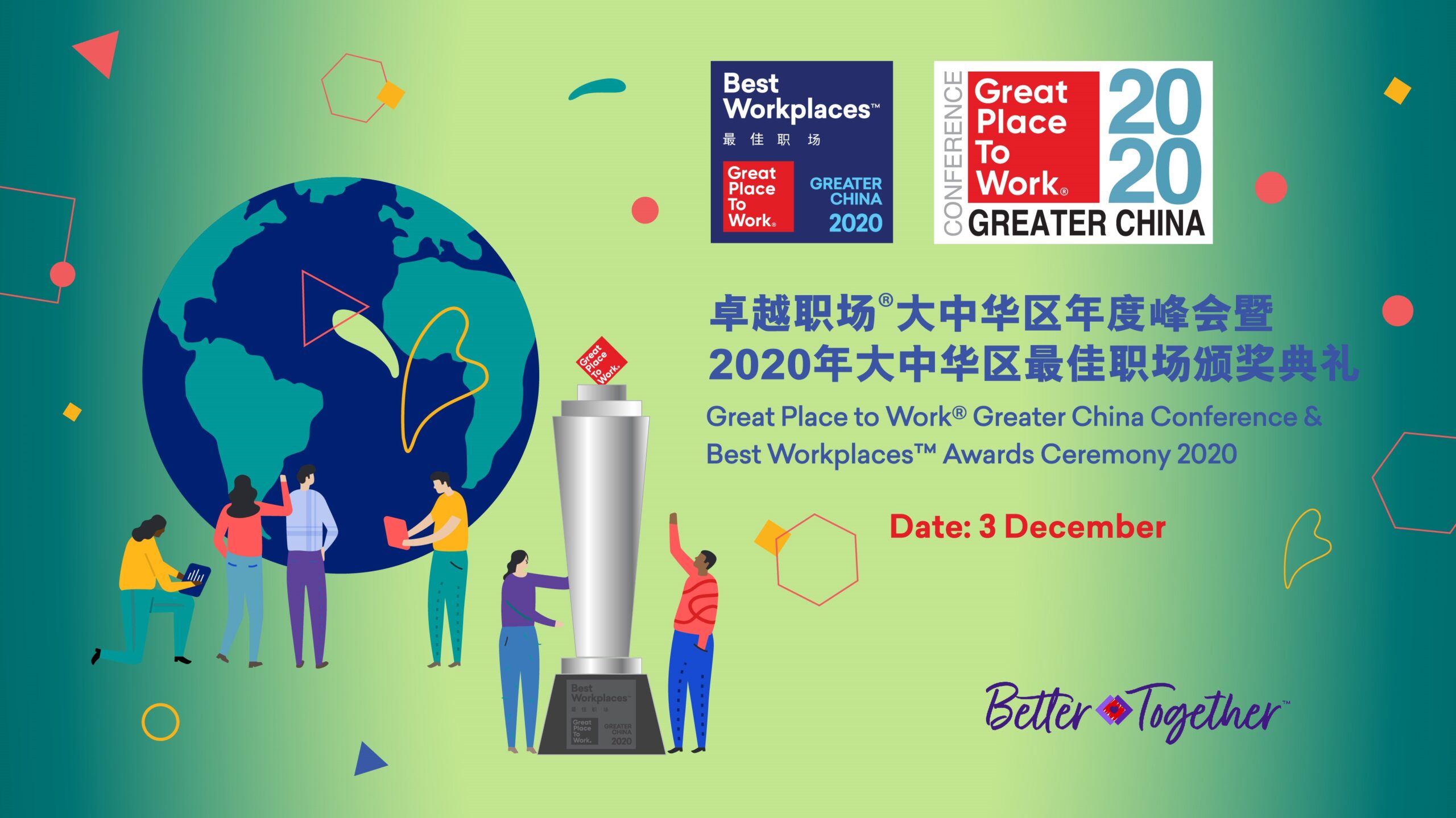 Great Place to Work® Greater China Conference & Best Workplaces™
Awards Ceremony 2020
Hong Kong SAR, December 4, 2020 – Great Place to Work®, the global authority on workplace culture, hosted their Conference & Best Workplaces in Greater China™ Awards Ceremony 2020 virtually on 3rd December, 2020.  Attendees from all over the world tuned in to participate and connect together. These included not only the awardees, but also other organizations and affiliates around the world who gathered together to learn and celebrate this special moment.
This year's conference topic was 'Better Together', which is an important subject in today's ever-changing business environment.
Great Place to Work® presented the conference virtually and invited many leaders to share and discuss best workplace practices and the current challenges in the market.  The speakers represented companies from different industries and of different sizes, namely Stryker, Canva ,Cisco, Ipsen, PageGroup and Siemens Healthineers, to discuss and share insights on their personal experiences as well as future trends and how leaders can engage team members in these unprecedented times.
The first keynote speaker, Mr. John Collings, President, Asia Pacific for Stryker, shared and demonstrated how the team has been helping thousands of people around the world and creating impact stories every day. The company is highly mission-oriented and this was highly echoed in the workplace, especially during the global pandemic. The Stryker team formulated a new plan in just 7 days, building and delivering thousands of emergency beds to hospitals and some of the most severely affected places around the world.
Mr. Collings also explained how Stryker's culture values the differences of one another, and how the organization can be stronger by staying together in offering better health care solutions.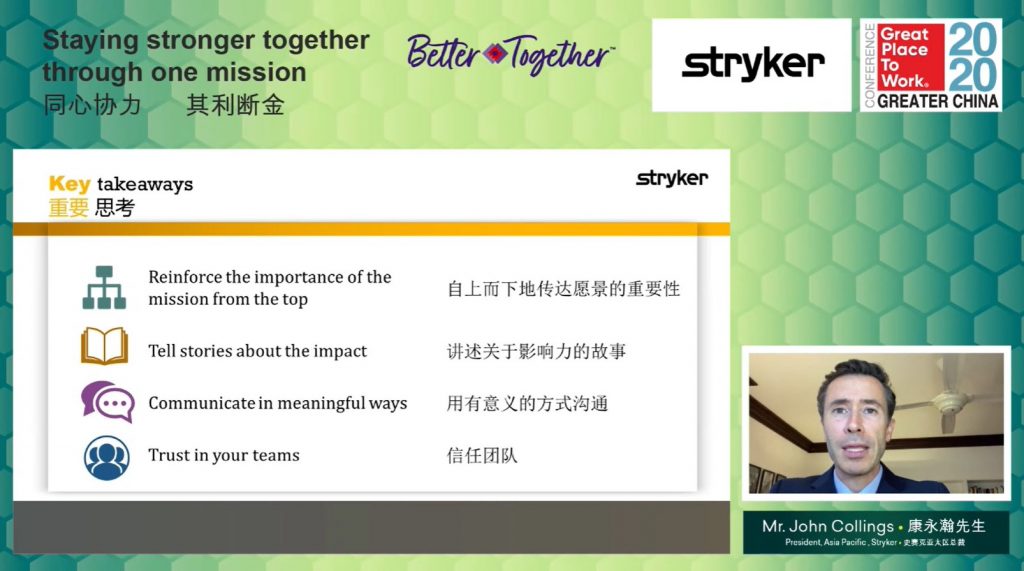 After a short break, various leaders from different industries participated in a panel discussion. Mr. Andy Bentote, Regional Managing Director, PageGroup Greater China; Mr. Ming Wong, CEO, Cisco Greater China; Mr. Robin Zhang, Canva CEO China; Mr. Alan Chen, Senior Vice-President & General Manager of IPSEN China and Ms. Alicia Tung, COO, Great Place to Work® Greater China joined together and discussed the importance of workplace culture and why it is vital to cultivate and embrace these cultures.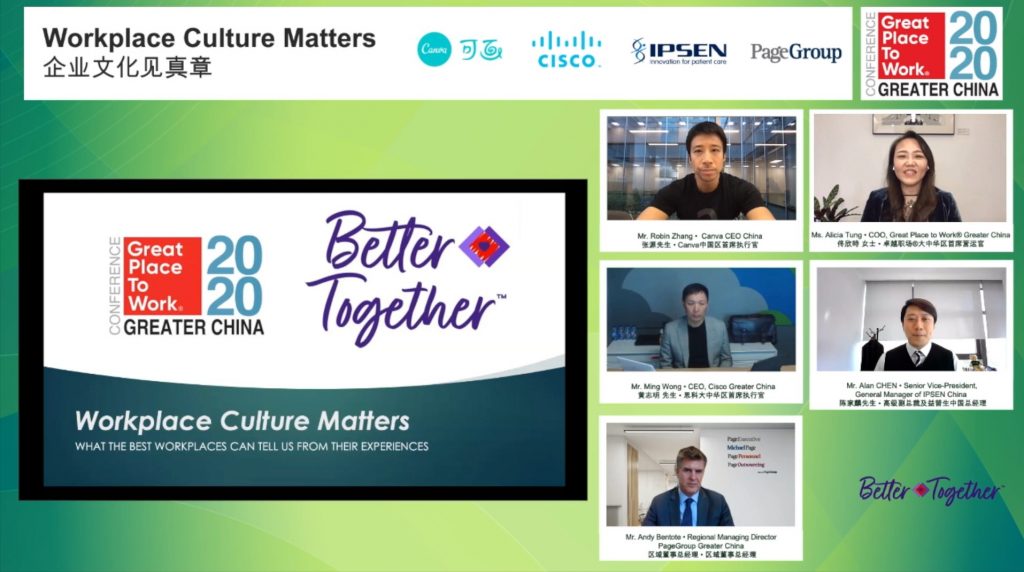 The speakers shared many brilliant ideas implemented during this incredibly challenging year. They offered personal experiences, insights and knowledge about the programs and practices that they found effective and beneficial in their respective workplaces.

This year marked the rapid rise of the hybrid working environment with employees working from both home and office. One of the key takeaways from the discussion was the need to maintain a degree of fun and camaraderie while working from home for prolonged periods. This often means taking celebratory and other team building activities online, which presented an interesting and creative opportunity for HR departments to explore.

The last keynote speech was delivered by Ms. Elisabeth Staudinger, President, Asia Pacific of Siemens Healthineers. She explained how the team was very committed and motivated to offer helping hands especially during Chinese New Year, with staff unsure about when they would be able to return to the office. Leaders ensured that the employees were equipped with anything needed in order to perform from remote areas.

Ms. Staudinger also commented that leaders nowadays need to look for better ways to provide access to digital health care solutions with greater geographical reach to cater to those in remote areas or to those isolating in place.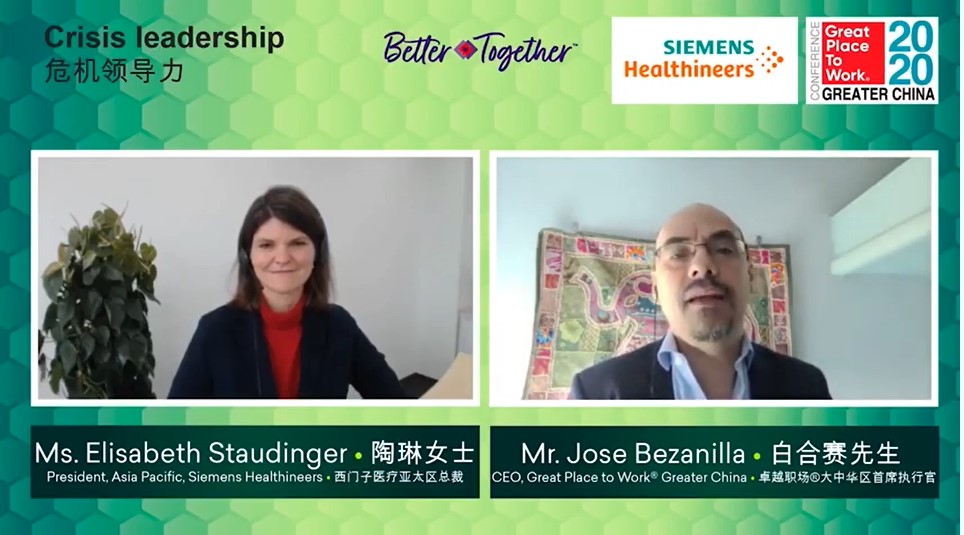 Later in the evening, the Best Workplaces™ Awards Ceremony was held virtually.
Ms. Anna Yau, Business Analyst of Great Place to Work®, Greater China gave a presentation on the this year's research findings, the key takeaway was that, despite the special situation and the countless hurdles that needed to be navigated, Best Workplaces are thriving and consistently building great workplaces for their employees. Among our Best Workplaces in Greater China 2020, the average score in the Trust Index is 88% and this demonstrates their resilience during difficult times.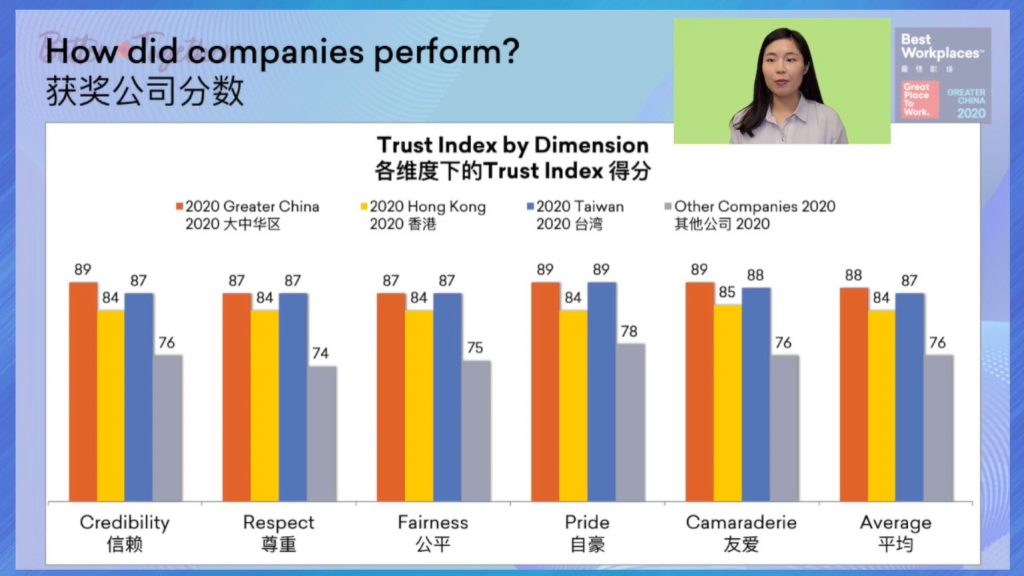 Miss Anna also explained about the New Methodology For All Methodology builds on the Trust Model by ensuring that every single employee, no matter who they are or what they do for their company, is having a consistently positive experience at work.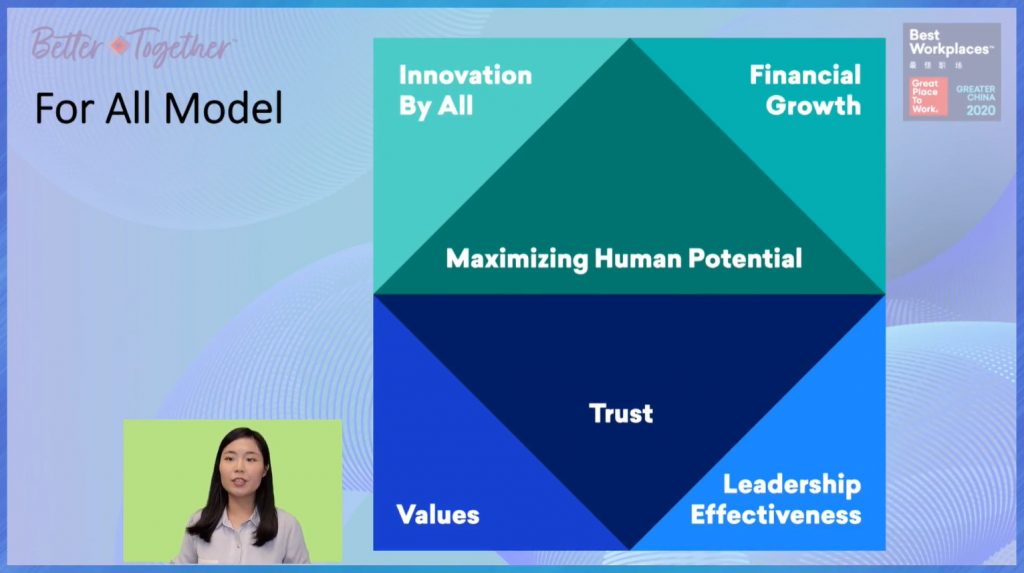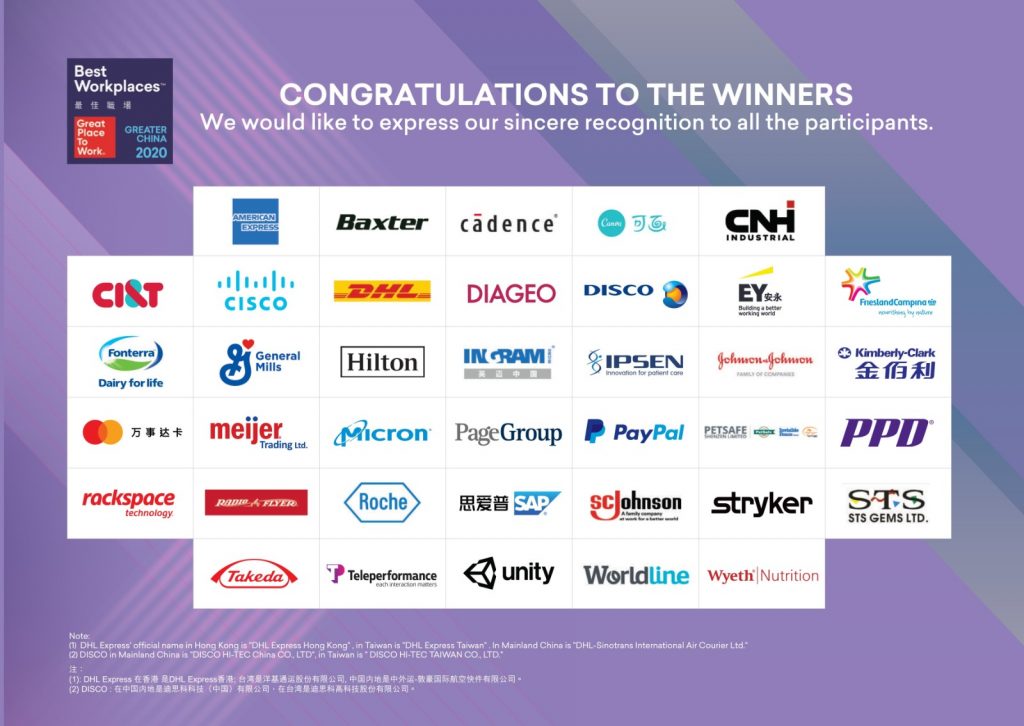 And the most exciting part of the event – the awards ceremony, this year, 38 companies made it to the list, recognizing many great companies with very committed teams and leaders. The Best Workplaces™ list in Greater China was evaluated using the Trust Index© and Culture Audit© scores from the participating companies. Great Place to Work® provides the expertise needed to create, sustain, and recognize outstanding workplace cultures.
"We congratulate the 2020 Best Workplaces in Greater China™  for their leadership and commitment to building Great Places to Work® for All. The Best Workplaces stand out by creating sustainable and agile environments that cater to their employees' needs in this special year of 2020."
– Mr. Jose  Bezanilla CEO, Great Place to Work® Greater China
In addition, Ms. Alicia Tung, COO of Great Place to Work® Greater China, presented the LEGENDS organizations. This year 9 companies were selected as the LEGENDS of the Best Workplaces in Greater China™ 2020. This recognition honors an organization that has been maintaining a high-TRUST workplace culture and continuously featuring on the Best Workplaces in Greater China list for 5 consecutive years.
The organizations presented in the event have been tirelessly promoting workplace culture with TRUST for the employees for 5 years and this has been duly recognized by their employees.
Despite all the changes happening around the world or how unforeseen challenges hit the market, like those experienced this year, these organizations have never changed their TRUST, CARE and RESPECT to their people at the workplace. Congratulations to all organizations that have earned the LEGENDS awards.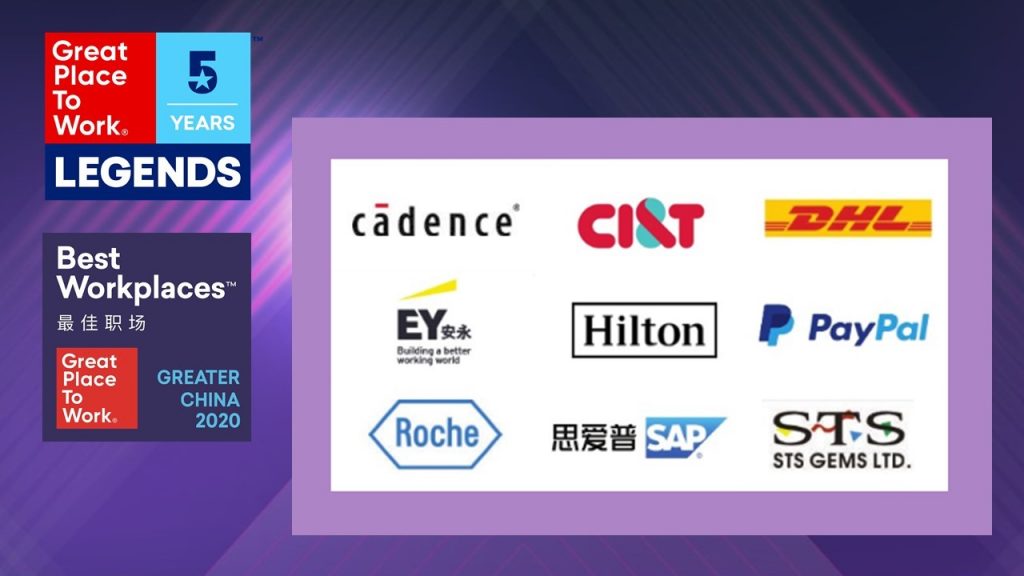 The event ended with a variety of learnings and innovative ideas to takeaway. This year won't be forgotten anytime soon. The efforts of the Best Workplaces won't be forgotten by their employees. Next year promises to be another exciting year and we look forward to witnessing how Best Workplaces continue to take care of their employees by maintaining high-TRUST workplace cultures.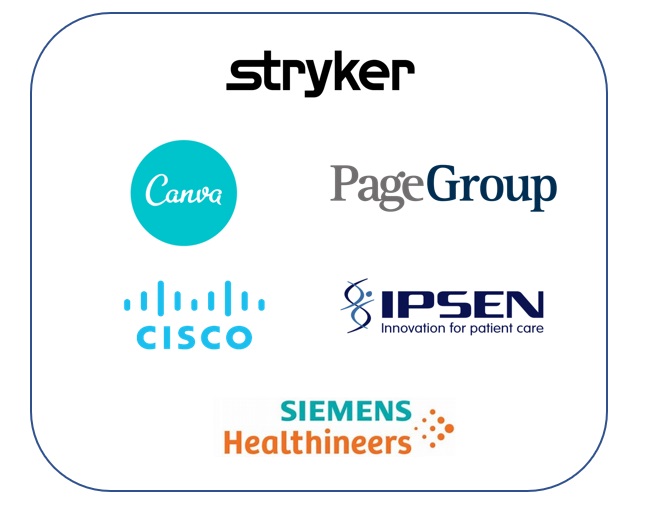 ~ Conference~
Platinum Sponsor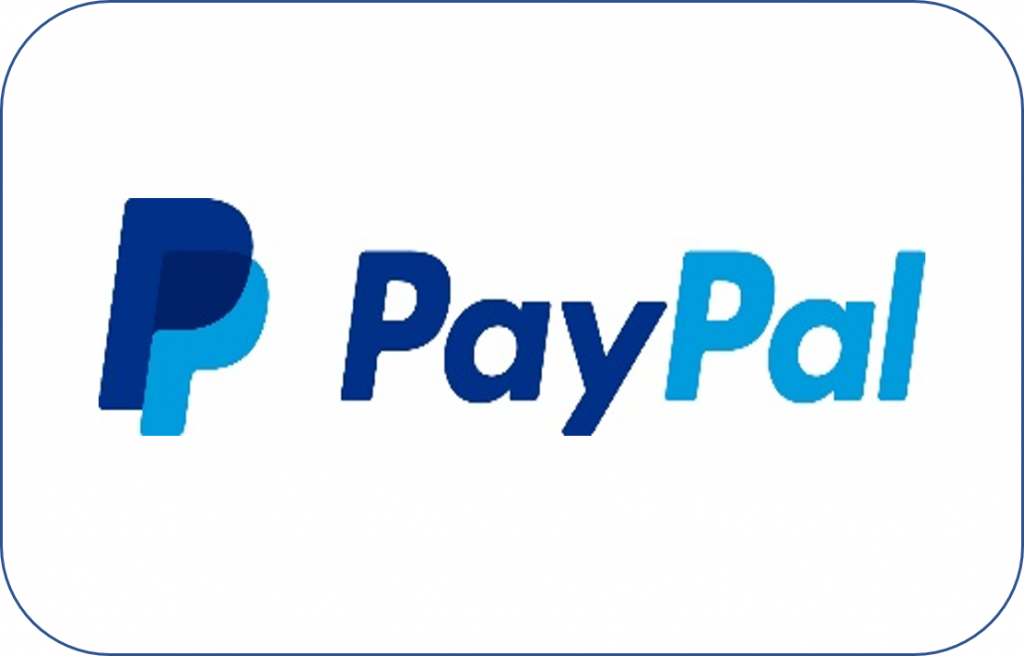 ~ Conference~
Platinum Sponsor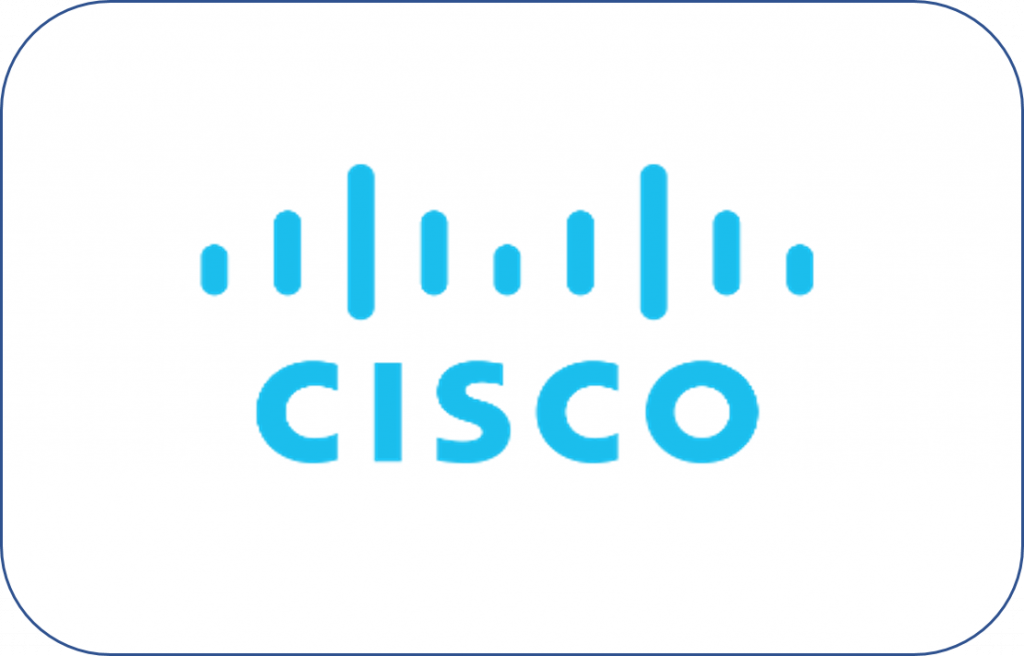 ~ Conference~
Silver Sponsor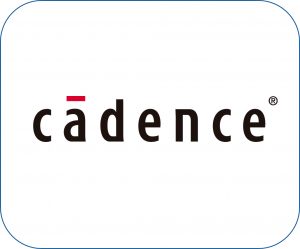 ~ Conference~
Partner Sponsor
Great Place to Work is the global authority on high-trust, high-performance workplace cultures that provides executive advisory and culture consulting services to businesses, non-profits, and government agencies in more than 60 countries across five continents. Through proprietary assessment tools, benchmarks and certification programs, Great Place to Work provides the expertise needed to create, sustain, and recognise outstanding workplace cultures. The Institute works with media throughout the world to select lists of Best Workplaces. In Greater China, we partner with Bloomberg Businessweek/China and Classified Post to publish the 'Best Workplaces ™' list. In the US, we work with Fortune Magazine to publish the '100 Best Companies to Work For®' list.
To learn more, visit greatplacetowork.cn,  Join the community and follow us :




 ID: greatplacetowork
Bloomberg Businessweek/China (BBWC) is a business publication with an international copyright authorized by GAPP. BBWC is jointly published and operated by Bloomberg L.P., China Commerce and Trade Press, and Modern Media Group. The magazine is produced by an experienced editorial team based in China, along with award-winning media professionals at Bloomberg Media. Bloomberg's creativity and brand influence sharpens BBWC and makes it the comprehensive business authority for business leaders of the new economy. Operated within China, BBWC is in tune with the social and economic trends of the country while providing readers with competitive global insights for smarter, faster and more informed business decisions. As a strong brand it also aims to be a thought leader in Chinese business and prepare readers for the future business landscape via its original ideas and bold design. Since the revised version came back to the market in 2011, BBWC has been the market leader and widely acclaimed by experts and decision-makers from various fields in China. www.bloomberg.com/businessweek
Official News Distribution Partner
PR Newswire, a Cision company, is the premier global provider of media monitoring platforms and news distribution services that marketers, corporate communicators and investor relations professionals leverage to engage key audiences. Having pioneered the commercial news distribution industry since 1954, PR Newswire today provides end-to-end solutions to produce, distribute, target and measure text and multimedia content across traditional, digital, mobile and social channels. Combining the world's largest multi-channel content distribution and optimization network with comprehensive workflow tools and platforms, PR Newswire powers the stories of organizations around the world. PR Newswire serves tens of thousands of clients from offices in the Americas, Europe, Middle East, Africa and Asia-Pacific regions. www.prnasia.com
The Classified Post, published every Saturday, is an English-language recruitment publication in Hong Kong with a reputation for offering quality job postings. In our continuing effort to build and support the HR community, we present a brand-new training series for HR practitioners in all levels. The workshops will provide in-depth insights, practical tips and sharing in different topics catering to HR's needs. We aim to organize different events and awards for better connecting employers and jobseekers for a brighter career ladder. www.cpjobs.com   
2020 Great Place to Work® Greater China Annual Conference
Best Workplaces in Greater China™ 2020 Awards Ceremony